Inclusion 360 Team Building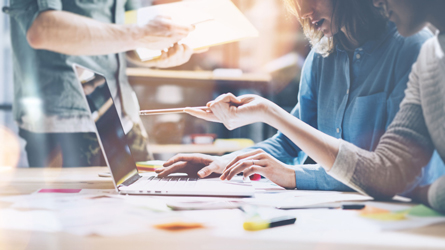 Times have changed, and now more than ever society and business are challenged to build and maintain an inclusive workforce. The need for employee engagement and group intelligence has never been greater. In creating the chemistry that enables everyone to contribute their best toward achieving team goals, however, most managers lack the resources to help their team become a cohesive work unit.
"Just getting a lot of smart people in a group does not necessarily make a smart group. Group intelligence is correlated with… social sensitivity — the openness, and receptiveness, to others."—THOMAS MALONE – MIT's Sloan School of Management
Challenging Perceptions about Diversity, Identity and Inclusion
A recent survey of federal employees conducted by the Government Business Council and Monster Government Solutions suggests agencies still struggle with diversity and inclusion in the workplace.
71% have felt misunderstood at work because a part of their identity differs from others
62% have felt unsure how to best interact with a colleague of a different identity
52% believe they have the resources needed to connect and network with others in their organization who have similar identities or interests
28% believe their organization is effective at leveraging diversity to achieve its mission
THE WIN 360 Team Building Course is a dynamic, blended interactive team-building session that helps team members learn more about each other so they can perform more effectively. Through the combination of independent and peer-to-peer learning along with guidance from experts, The WIN 360 provides unique visibility into the make-up of teams and organizations. These valuable insights allow team members to find commonalties and explore differences in meaningful ways. The WIN 360 Course helps teams:
Develop awareness of personal, cultural, and work-style issues that are important to each team member
Share accountability for monitoring and maintaining team norms that create an inclusive identity-ready team culture
Continuously measure and improve team chemistry to foster innovation and high performance
How the Win 360 Inclusion Team Building Process Works
The core of the WIN 360 experience is the web-based WIN 360 Team Building Application, which includes eight self-reported Identity Cards that employees complete online in a private and secure environment. The eight Identity Cards ask each employee to consider their:
Individual Qualities and Characteristics – The personal traits that make each person a unique individual.
Core Values – The values that guide choices and reactions.
Cultural and Demographic Identity – The physical traits, customs, values, and traditions shared between and within groups.
Work Style Identity – The special talents, characteristics, pacing, and habits that describe individual approaches to work.
Holidays and Celebrations – The important holidays and celebrations of team members and what it means to value them in a timely and meaningful way.
Professional Identity – A view on the world based on what you do.
Geographic Identity – The physical locations within which team members most identify.
Hobbies and Civic Identity – The special interests and activities we engage in and the ways in which we contribute to communities or society at large.
The Identity Cards provide an engaging way for team members to share what others need to know to "get them." Just by completing their Identity Cards, team members increase their self-awareness about the many aspects of their identities—but that is just the beginning.
Team Conversations
Work teams have facilitated discussions about selected Identity Cards which encourage open dialogue between team members. Team members use the identity cards to identify key similarities and differences between teammates that will have an impact on their ability to work together.
Use Identity to Create Inclusive Teams and Workplaces
The WIN 360 offers snapshot analytics through a database that aggregates all of a team's selections on the eight Identity Cards, so managers and team members get a high-level, transparent view of their team members' characteristics. Team members and managers can use the data to identify trends and identify potential challenges based on a group's configuration.
Ongoing Assessment of Team Norms
WIN 360 teams make a commitment to practice team norms and values that will help them create an inclusive and engaging culture. Teams regularly monitor their progress by using the WIN 360 online assessment tools to measure their improvement in practicing the norms.